Anti inmflamation

Brain Health

Essential
✔️EPA/DHA : 800/600
🐠 2000MG FISH OIL – +80%
CONCENTRATION
🐠 TOTAL OMEGA 3 1.500 MG
🐠 1.400 MG EPA/DHA, 100 MG OTHER OMEGA 3
✔️ MSC Ecolabel
✔️ TOTOX <5
For adults 12 years and up: Take 2 capsules daily, preferably with a protein rich meal or as recommended by a physician..
A superior form of fish oil.
Natural Triglyceride Formulation | Highly Concentrated: 80% EPA/DHA.
100% Wild alaskan pollock from sustainable sources.

Certified the highest concentration, freshness and lowest heavy metals concentration. TOTOX <5
Pure, concentrated fish oil
The most powerful and natural anti inflammatory
The omega 3 fatty acids contained in fish oil stimulate our mental performance and help preventing cardiovascular diseases and others associated with inflammatory process.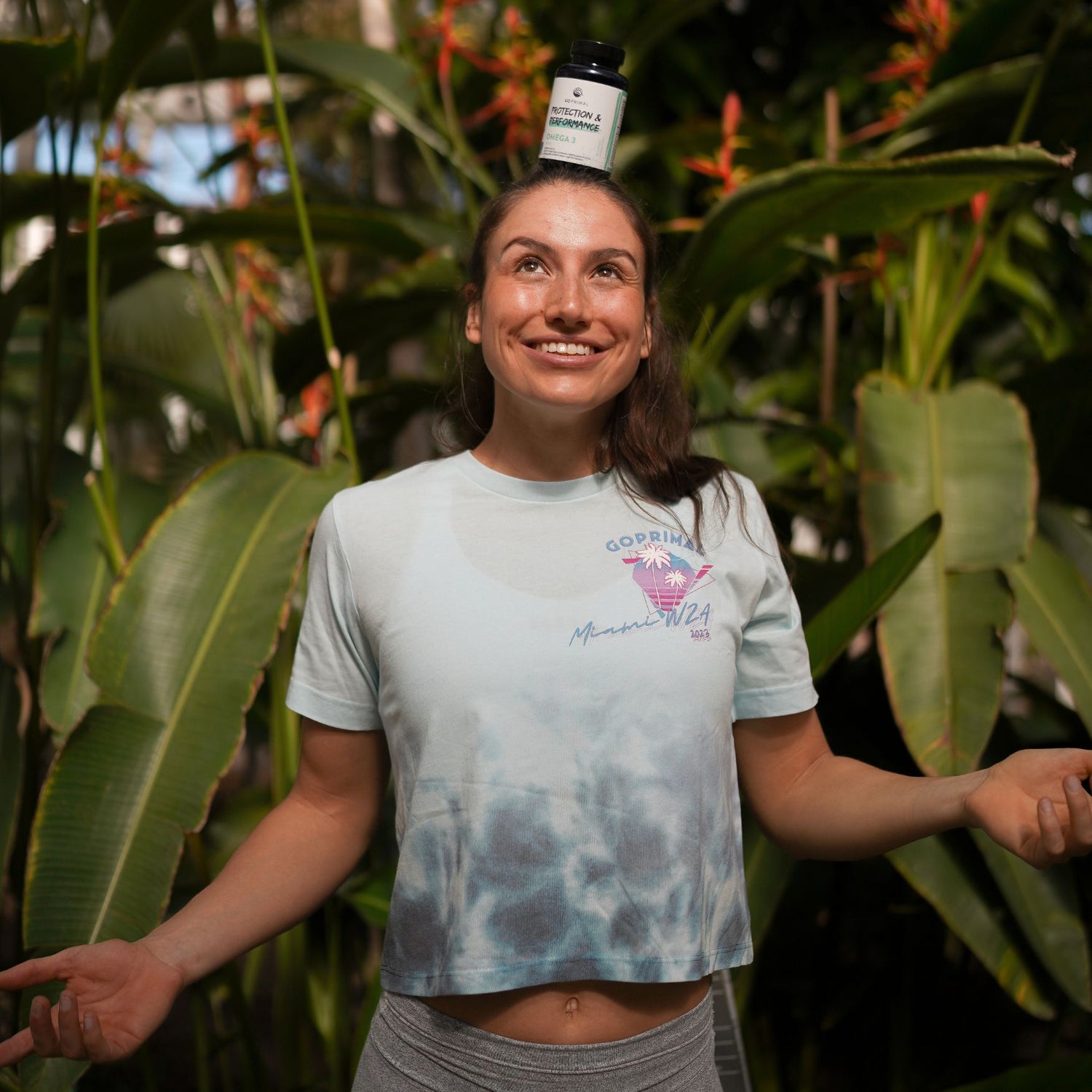 Effective, Pure&Fresh. A superior fish oil
Our body use EPA/DHA as building blocks for our cell membranes. Therefore, they play a key role in fighting inflammations and speeding up the recovery process after training or illnesses. Many other meta-analysis have shown the benefits in brain cognition, blood flow, cholesterol and cardiovascular health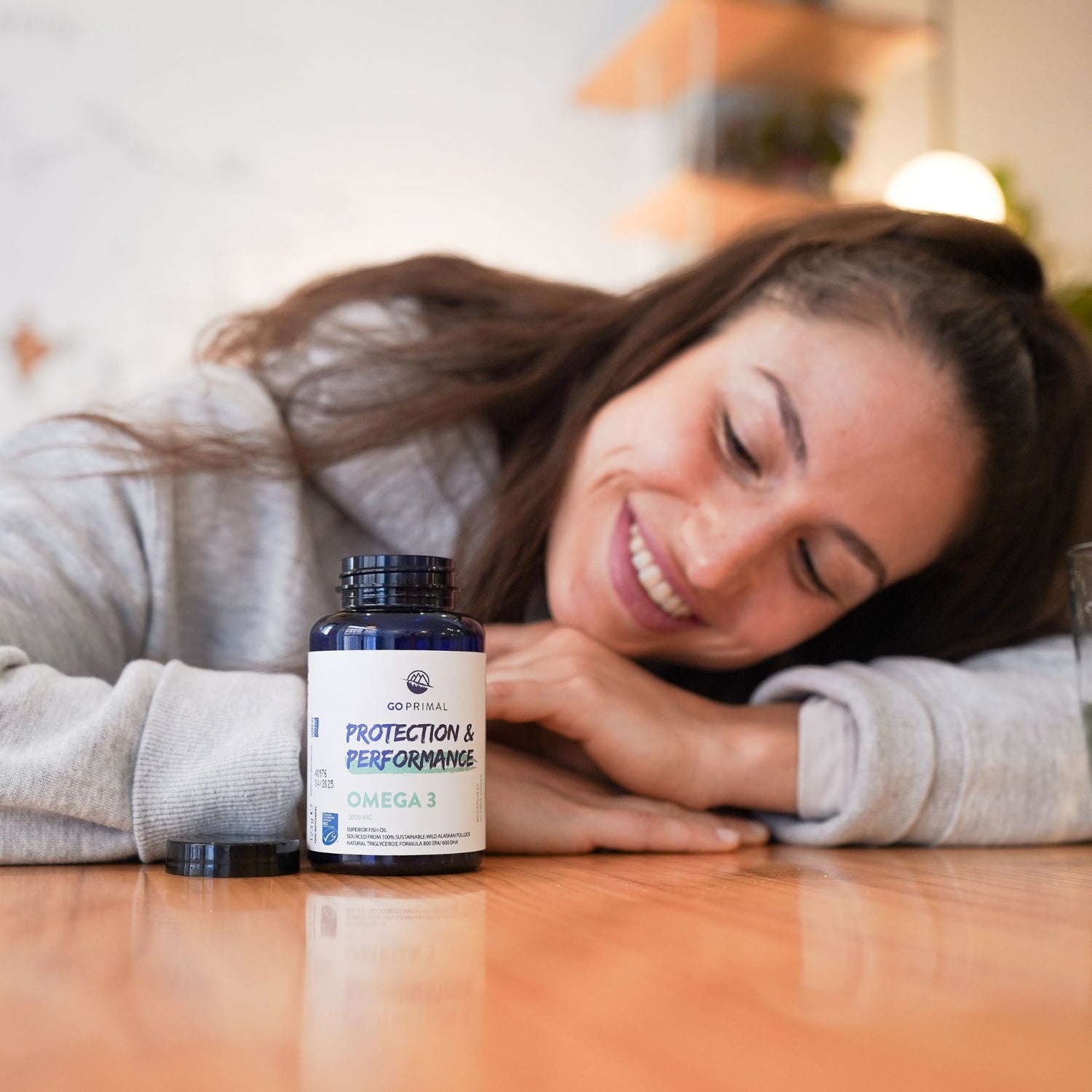 Essential Nutrient
Our modern diet contains highly processed foods which are high in Omega-6, increasing our inflammation profile. High quality Omega-3 is able to counteright the inflammation effect.
Superior Omega 3 – 2000 MG Fish Oil
Cold extraction and molecular distillation results in up 85% Omega-3 with no fishy odor or taste, resulting in a clean and pure fish oil with no need of coloring/flavours to mask flavours/odors.
We assure minimum oxidation
Refining and filtration process undergo with minimum to none exposure to heat or air. Thereby we offer the maximum purity possible, we don't use coloring or flavouring as our fish oil is as fresh as it can be.
Only wild caught fish
Only small fish(Alaskan pollock) sustainable caught in wild waters can assure lowest levels of heavy metals: TOTOX < 5. With a total EPA 800 and DHA 600, GoPrimal Primal is probably one of the best fish oils that money can buy .
Sustainably sourced
The stocks are always fished in a way that does not threaten the sea population's long-term health and minimizes the damage of fishing to the surrounding wildlife and ecosystem.
Why everybody benefits from omega 3 supplements
Omega 3 fatty acids are polyunsaturated fatty acids. Omega 3 is an essential fatty acid. This means that the body does not make it itself, but it needs it from an external source.
The best known omega 3's are ALA (alpha-linolenic acid) and the fish fatty acids EPA (eicosapentaenoic acid) and DHA (docosahexaenoic acid).
What are the food sources of omega 3. ALA is in vegetable oils, especially linseed/flaxseed oil. It is also found in red meat and green leafy vegetables. EPA and DHA are mainly found in fatty fish and shellfish.
The intake of omega 3 supplements has a positive impact on our general health because of its various functions. So what's not to like:
First Anti-inflammatory:
Omega 3 has an anti-inflammatory effect. With a high intake of processed foods (these are high in omega 6 ), inflammation can be caused. A good omega 3/6 ratio is extremely important. A high omega 3 ratio hinders the inflammatory process.
Second: Support of cardiovascular functions Omega 3 has a positive effect on the heart and blood vessels. It lowers bad cholesterol and protects the body against cardiovascular diseases.
A better recovery after exercise
Because omega 3 has a positive effect on the blood circulation, the body transports the nutrients that are important for muscle recovery better and the elimination of toxic products is more efficient.
One for the ladies: omega 3 is a natural painkiller for menstrual cramps. A study by Babol University of Medical Sciences has shown that the daily intake of 1000mg omega 3 has a greater painkilling effect in dysmenorrhea (menstrual cramps) than the intake of ibuprofen or another during acute painful moments.
New data supporting the role of the marine omega-3 fatty acids DHA and EPA in protecting the heart!
A meta-analysis of 40 clinical trials found that supplementation with fish oil is associated with a 35% reduced risk of fatal heart attacks, a 13% reduced risk of heart attacks, and a 9% reduced risk of fatal coronary heart disease.
The study found that cardiovascular benefits increased with increasing dosage. The data showed that adding an extra 1000 mg of EPA and DHA per day led to an additional decreased risk in cardiovascular disease and heart attacks. For example, the risk of cardiovascular disease events decreased by an additional 5.8% and the risk for heart attack decreased by an additional 9% with an additional 1,000 mg of fish oil.
"I typically take 3 grams of DHA and between 1.2 to 3.2 grams of EPA per day. I give my mother something similar. My mom is generally pretty sedentary which puts her at an elevated risk for cardiovascular disease.
I am working on getting her more active but it has been a struggle. It is exponentially easier to get her to take purified fish oil supplements compared getting her to be more physically active. It is low-hanging fruit that is easy to implement and she has been taking them for years now."
The title of the study is: Effect of Omega-3 Dosage on Cardiovascular Outcome.
Ingredients.
✔️EPA/DHA : 800/600
🐠 2000MG FISH OIL – +80%
CONCENTRATION
 
🐠 TOTAL OMEGA 3 1.500 MG
🐠 1.400 MG EPA/DHA, 100 MG OTHER OMEGA 3
✔️ MSC ECOLABEL
✔️ TOTOX <5
NATURAL TRIGLYCERIDE FORMULATION
100% WILD ALASKAN POLLOCK
 
Frequently asked questions.
DIE YOUNG. AS LATE AS POSSIBLE.
We produce products that address the micronutrient deficiencies of our modern lives.
Our goal is to improve the longevity of all athletes, from amateurs and amateur athletes to professionals; to us, everyone who works hard is an athlete, regardless of whether they have just started training or participating in competitions.
Trust the process, don't take shortcuts, take time to recover and you will reach your goals.
Die young. As late as possible.