Best flavour

Good for all Good for all

Pea and Rice hydrolised protein
Pea protein isolate, rice protein isolate, Maltodextrin, Cookie petit beurre flavour,Quinoa powder, Chlorella powder, Chia seeds powder, Spirulina powder, Moringa powder, Psyllium seeds powder, Wheat bran (gluten), Sweetener: sucralose
Support lean muscle and optimal levels of fat in your diet.
30 servings of 23.9 grams protein.
We recommend to take 2-3 shakes along the day.
Mix one scoop (30 grams) with 250-300 ml of water or plant milk.
Animal proteins are one of the richest food source for complete proteins, but our protein blend from pea, rice protein and a superfoods blend is ideal for vegetarians, vegans or people who want to reduce their consume of products of animal origin and still getting the right amount of nutrients, vitamins and fibers.
COMPLETE AMINO ACID PROFILE
Vegan protein powder has never tasted so good! We source our protein powder from pea and rice protein to achieve a complete amino acid profile. A rich mix of superfoods (Chlorella, Spirulina, Moringa, Psyllium seeds) turns our Plant Warrior Protein into a yummy nutrient bomb who will hit your taste buds.
With this combination of earth grown nutrients, Plant Warrior Protein is a unique product providing the most natural protein powder from Pea and Rice with no soy and a complete amino acid profile. 
Making it one of its kind: A very tasty Plant Base Protein that you will truly absorb.
100 % Vegan Protein Powder
Plant protein & SuperFoods
A perfect mix of earth grown ingredients, rich in micronutrients and antioxidants that combined with plant based protein from pea and rice will provide the right amount of micros and macros for your diet.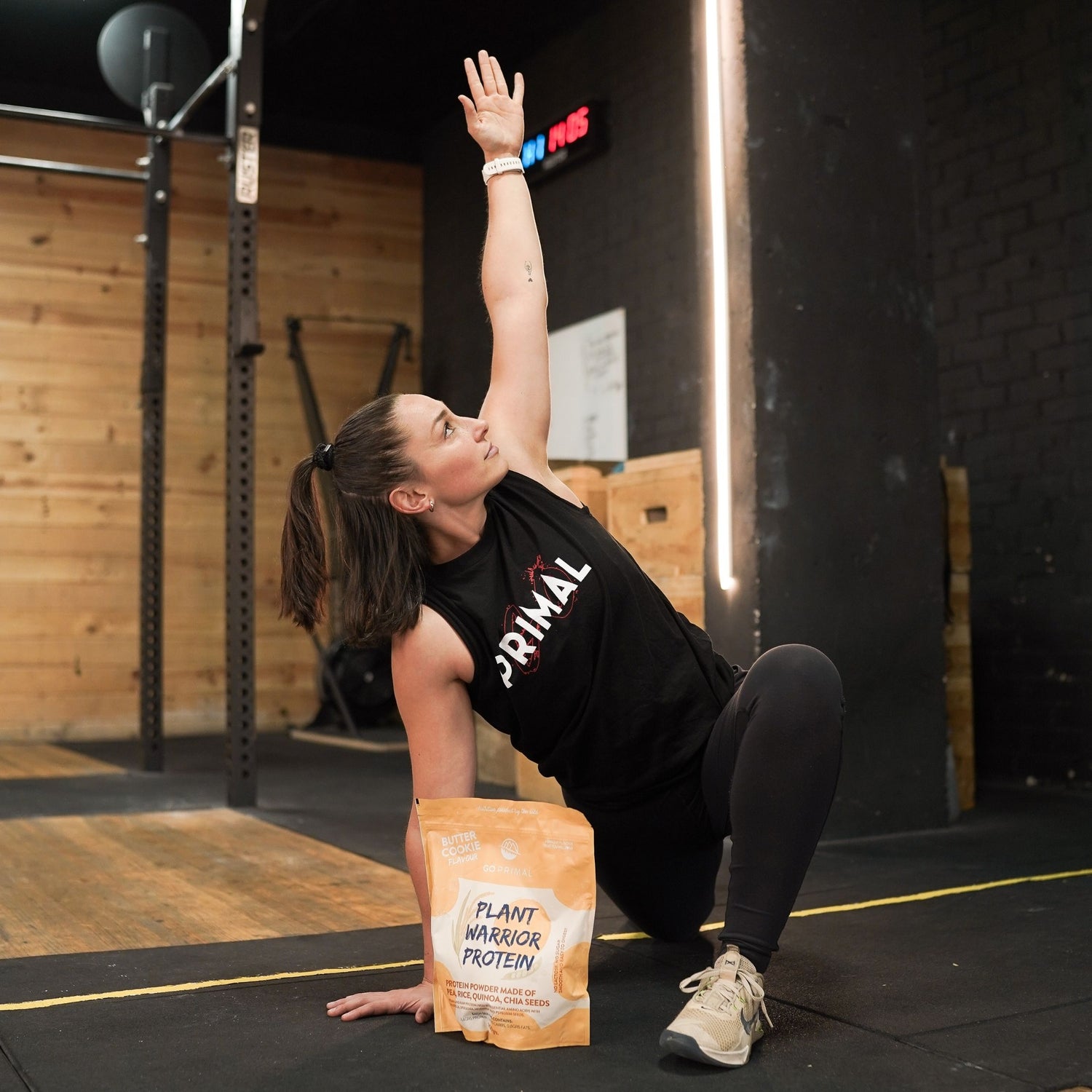 Complete Amino Acid Profile
This will guarantee a perfect recovery and a full meal with all the nutritionist values needed.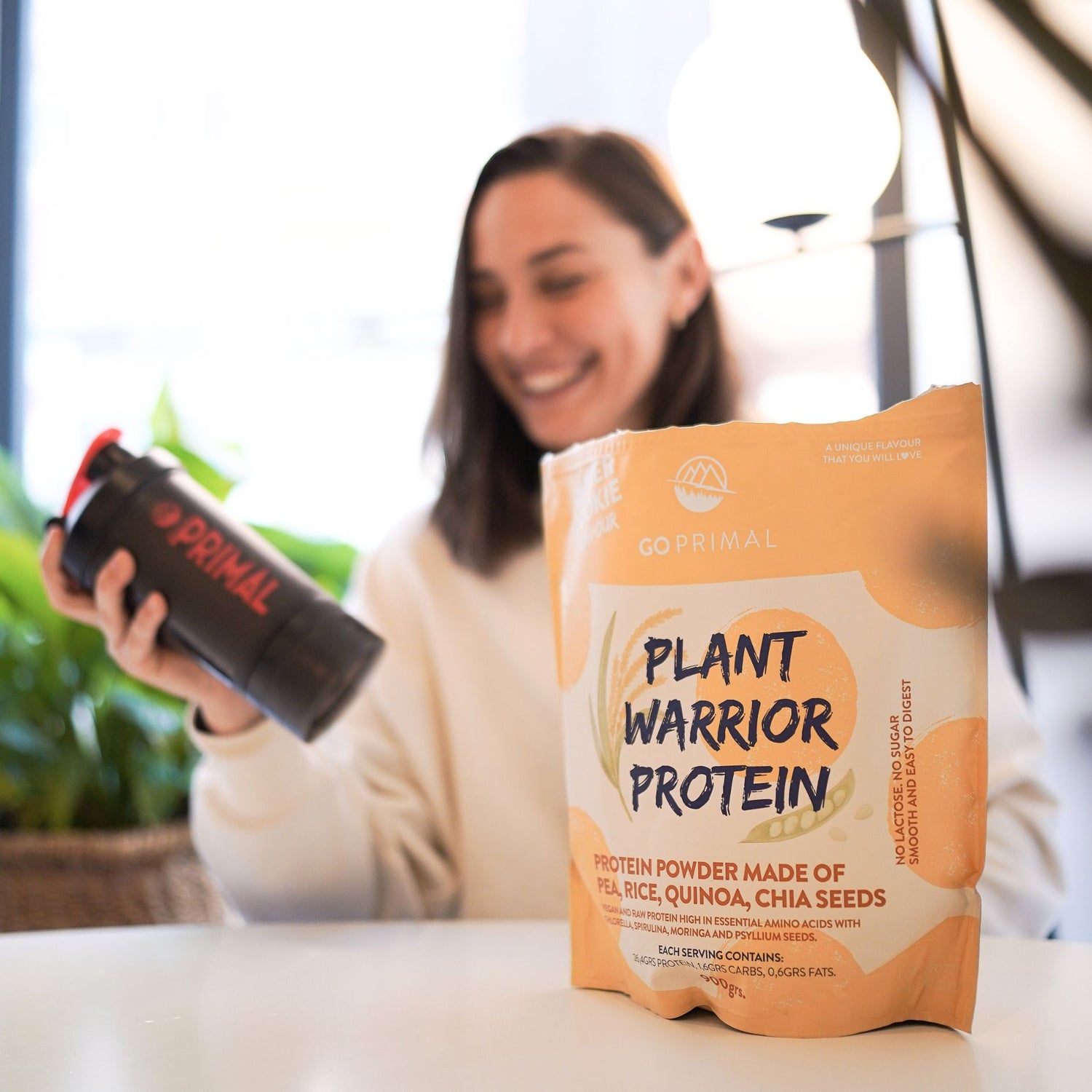 Delicious even with just water
You wont believe how tasty it is, even with just water it tastes like real cookies. Mix it with plant or regular milk for a much better experience.
Why GoPrimal Plant Warrior Protein With superfood mix?
We only design products that have been backed by several studies proving their truly significant effects and benefits. Plant Warrior Protein is a perfect example of it. We didn't want to launch any plant protein, we want to create the best one!! As Nature Intended, Plant Warrior Provides all the good and delicious stuff you need just from earth grown ingredients. Quinoa, Chlorella, Chia seeds, Spirulina, Moringa, Psyllium seeds & Wheat bran are supercharging our plant based protein.
Why and when should I take a protein shake?
After your workout is one of the best times to get protein into the body so that the protein can be delivered to your muscles and begin the process of healing the "micro tears" in the muscle (very small tears in the muscle tissue, caused by contraction of the muscle during hard workout). Solid food like chicken breast take more time to digest and to break down the protein and send it to the muscles, it´s much more convenient to take a protein shake immediately following a workout, since a shake only takes about 30 minutes to reach the muscles after ingestion.
You need Protein!
Whether you are an athlete or someone who wants to have healthy and balanced diet, you need protein to keep lean muscle and have the right levels of energy. GoPrimal Plant Warrior Protein will provide a complete amino acid profile, a high absorbable source of plant protein with a mix of superfoods, rich in vitamins and fibers. Just add water, GoPrimal Plant Warrior Protein is delicious even with just water. For a richer shake, add plant base milk.
Plant Warrior Protein for fat loss
Protein is one of the most important nutrients and frequently use for fat loss. Taking rich protein meals or protein shakes can help raise your metabolism as reducing your appetite as well. Plant Warrior Protein can help you curb your appetite by reducing levels of the hunger hormone ghrelin, at the same time increasing levels of appetite-reducing hormones. This means that consuming frequently along the days 2-3 protein shakes, can reduce the total amount calories that you ingest along the day. 🌱 Frequently consumption of protein along the day is ideal for fat loss. 🌾 Complete Amino Acid profile: Recover faster. 🌼 Creamy, Soft & Delicious. Even with just water.
A unique Plant based protein with not only a full amino acid profile, but also with the best flavour ever
Whether you are vegan, vegetarian or just want to reduce your consume of products of animal origin – our Plant Warrior blend will guarantee a sufficient supply with protein.
No lactose or added sugar. Low in carbs and fats. Delicious butter cookie flavor
Easy digestions and fast absorption by using protein isolate. Packed with nutrients from superfoods.
Mix in a blender:
A handful of frozen berries
A few spinach leaves (make sure it's at least a cup)
Kefir - One cup
Water or plant-based milk
1 scoop of Plant Warrior Protein
Ingredients.
PEA PROTEIN ISOLATE, RICE PROTEIN ISOLATE, MALTODEXTRIN, COOKIE PETIT BEURRE FLAVOUR,QUINOA POWDER, CHLORELLA POWDER, CHIA SEEDS POWDER, SPIRULINA POWDER, MORINGA POWDER, PSYLLIUM SEEDS POWDER, WHEAT BRAN (GLUTEN), SWEETENER: SUCRALOSE
Frequently asked questions.
DIE YOUNG. AS LATE AS POSSIBLE.
We produce products that address the micronutrient deficiencies of our modern lives.
Our goal is to improve the longevity of all athletes, from amateurs and amateur athletes to professionals; to us, everyone who works hard is an athlete, regardless of whether they have just started training or participating in competitions.
Trust the process, don't take shortcuts, take time to recover and you will reach your goals.
Die young. As late as possible.