Immune system

Mood

Strength & Energy
Vitamin D3 2500 IU 🌞 AS 62, 5 µG Cholecalciferol Coconut oil bovine Gelatine Glycerine Purified water
Supplements like vitamin D3 or zinc already support your immune system and should be a part of your daily routine – but eating the right vegetables and fruits will help you to stay healthy and strong additionally. Vitamin D works like a light switch in your body, who turns on or off genes and processes that your body needs to maintain your health at its best.
Fact is that 80% of western population is deficient in Vitamin D3
Vitamin D3 a prohormone key in the correct development of our immune system and to build solid muscle and bone structure when training strength and other high intensity sports.
120 Capsules 120 days supply ☀️ Less than 10 cents a day
We all felt that feeling during training or competition where we think we are unbreakable, we feel good, we are confident that we can lift that weight, run that fast or keep pushing to get one more rep. But what normally happens after this? we feel sick, through hurts, stomach-intestines feel funny and we just want to sleep under a blanket.
Why this feeling? well your immune system is weak, you underwent a process of exhaustion that your body was able to overcome for a while, but now is too tired and needs a recovery time. This is a similar feeling after getting a large tattoo, you swallow that pain for a while and at night you get fever.
Your immune system is having a breakdown.
Muscle and soft tissue tears, low glucose levels, accumulated stress, general inflammation. Your body is using their resources to heal and recover.
Vitamin D3 2500 IU – Strength and Immunity 🌞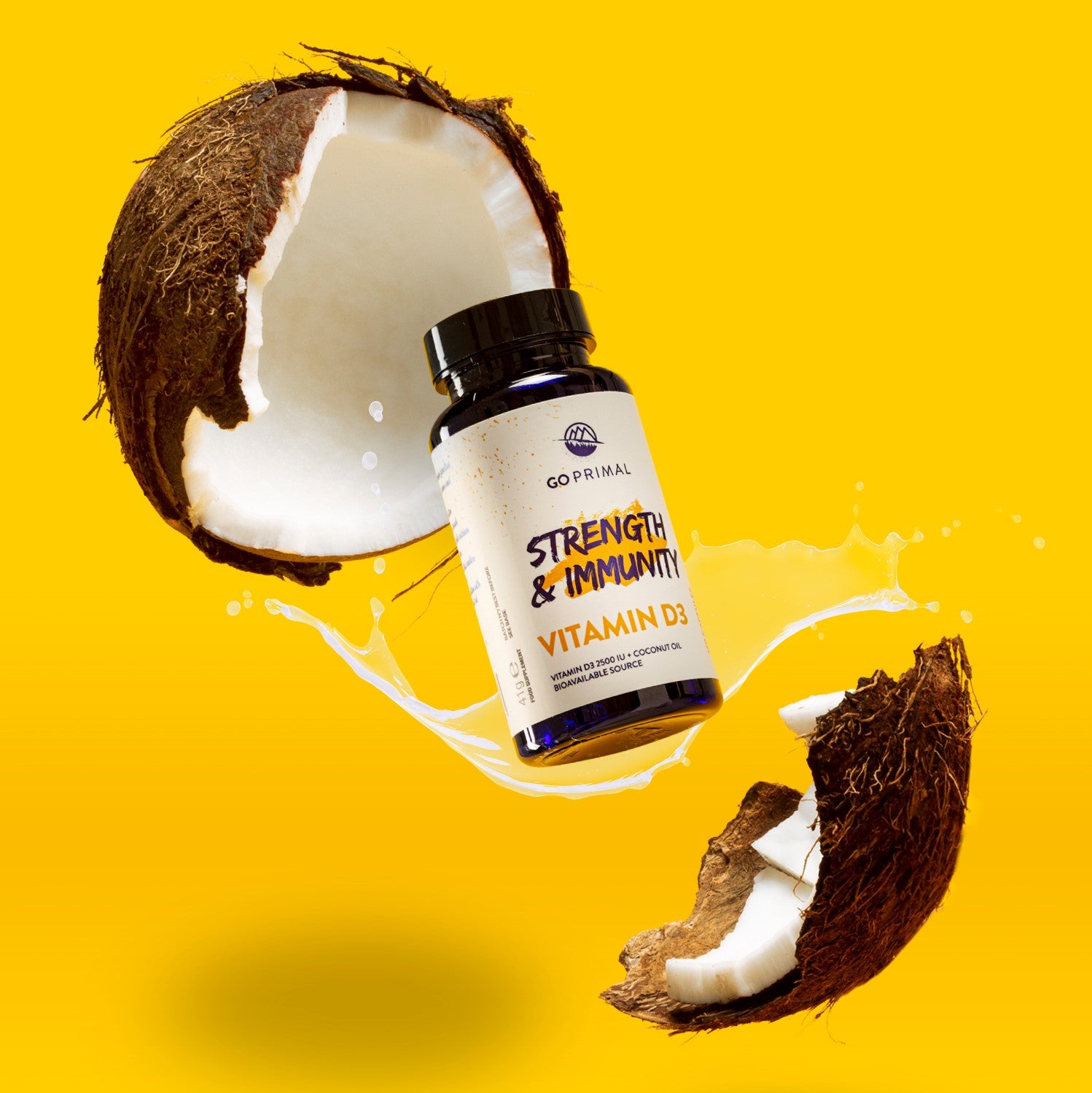 Better Mood in winter and summer
D3 verifiably strengthens the immune system. Medical professionals also use it to battle depression and anxiety.
Stay protected
Low levels of vitamin d3 are associated with frequent colds and influenza.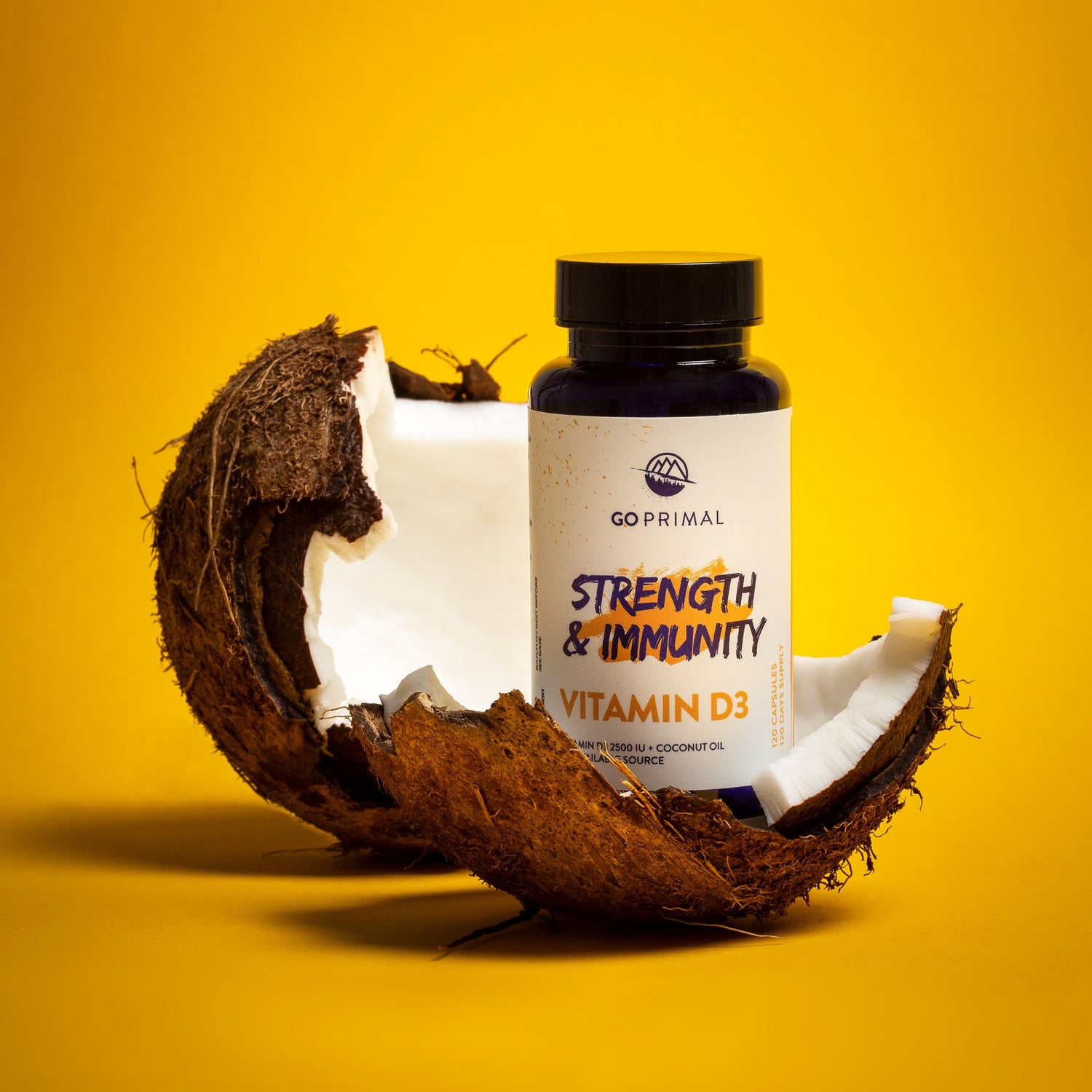 2500 IU high dose blended with coconut oil
GoPrimal's vitamin D3 is sourced from sheep wool (Lanolin). Then we add coconut oil to the mix, achieving an optimal absorption.
Understanding the role of our immune system
Physical activity in general will help flush bacteria out of the lungs and airways. This may reduce your chance of getting a cold, flu, or other illness. Exercise causes change in antibodies and white blood cells (WBC). WBCs are the body's immune system cells that fight disease.
This means that regular physical exercise will make you more resilient, by making your immune system stronger. Being fit is not only about muscles or appearance but also how our body internally is fit to fight agains external threads.
Exercise training increases the body's requirement for most nutrients and, in many cases, a simple way to restore this imbalance is by eating nutrient rich foods with a high amount of carbs to replenish glucose but specially is important(and easy) to take supplements to replenish all those micronutrients(minerals and vitamins) that your body is in special demand after a stressful period of increased inflammation all around the body, causing your immune system to be under attack and needing specially Vitamin D3.
Vitamin D3: the value for training and competition
Vitamin D intake related to athletic performance is currently a hot topic and highly studied during the last years. Although technically not a vitamin, this hormone is necessary for the absorption of calcium, making it essential for bone health, among many other benefits.
It also plays an important role for athletes, as it is essential for immune function and reducing inflammation.
In recent years, more research has been done on the consequences of vitamin D deficiency in athletes. It has been shown that low levels of D3 are very present in 80% of athletes that underwent these studies, D3 deficiency can decrease physical performance, slow recovery and increase the incidence of stress fractures. The RDA in many countries has been increased, although most of these levels are still very suboptimal for athletes. Ideally blood analysis should be above 60ugrs . This is just the result of the many studies and clinical trials performed during the last years, where organizations like WHO called the global D3 deficiency a pandemic.
We always tell our athletes you can't out-train a poor diet. The same could be said for supplements: You can't out-supplement a poor diet. Multivitamin and mineral supplements are intended to fortify a very strong nutritional foundation. Teaching athletes the importance of an adequate diet is the key to longevity and long-term success. teaching athletes the importance of high quality supplements is our goal and our mission is to supply the best supplements money can buy.
Ingredients.
VITAMIN D3 AS 62.5ΜG CHOLECALCIFEROL, COCONUT OIL, BOVINE GELATINE(CAPSULE), GLYCERINE, PURIFIED WATER. NO COLORANTS OR FLAVOURINGS.
RECOMMENDATION FROM THE WORLD MEDICAL ASSOCIATION: VITAMIN D DEFICIENCY IS AN IMPORTANT HEALTH ISSUE GLOBALLY. ABOUT ONE THIRD OF THE POPULATION IS ESTIMATED TO HAVE LOWER SERUM CONCENTRATION OF VITAMIN D.
Frequently asked questions.
DIE YOUNG. AS LATE AS POSSIBLE.
We produce products that address the micronutrient deficiencies of our modern lives.
Our goal is to improve the longevity of all athletes, from amateurs and amateur athletes to professionals; to us, everyone who works hard is an athlete, regardless of whether they have just started training or participating in competitions.
Trust the process, don't take shortcuts, take time to recover and you will reach your goals.
Die young. As late as possible.