Brain power

Focus and concentration

Strength & Power
Bacopa extract (Bacopa monnieri) 200 mg L-tyrosine 120 mg L-theanine 200 mg Alpha gpc (L-alpha glycerylphosphorylcholine) 300 mg Rhodiola Rosea Extract 50 mg Vitamin B12 (as cyanocobalamin) 6µg / 240% (% Nutrient Reference Value) Piperine (Bioperine TM) 4.76 mg.
Take two capsules in the morning, no matter if you train or work later that day. The effect of The Primal Nootropic is across the whole day. For better results taking them every day during the whole month and then stop on month off. Effects normally peak after 10 days of regular use.
For better mental and physical performance. Hack your "Flow State" and do more of what you like.
A natural, high-quality nootropic supplement like Focus&Power will keep you alert, improve your concentration and motivation, and all this makes you able to perform better, whether you are studying, working or training.
They are not miracle pills, but their benefits have been tested in clinical trials, and their ingredients have been used for hundreds of years by ancient civilisations when looking for improving their concentration and achieving a resilient state of mind.
How to improve concentration, motivation and energy levels
By combining high doses of our ingredients, we also make up for several existing nutritional deficiencies. Simultaneously, we strengthen basic body parameters to improve memory, focus, motivation, mental fatigue, combat stress, and other basic deficiencies we suffer from our modern lifestyles.
The nootropic supplement GoPrimal Focus&Power contains, among others, L-tyrosine and L-theanine (not to be confused with plain theine), amino acids that have been scientifically proven to promote memory, mood and cognitive abilities. Rhodiola Siberian, which is a plant used in Asia to combat muscle effectively and mental fatigue, thus helping to restore your energy, and vitamin B-12 (found naturally in animal products such as meat, milk and eggs, which are crucial to brain function and to achieving goals such as improving concentration).
Focus & Power – Wire up your brain with the primal Nootropic & UnLock your Full Potential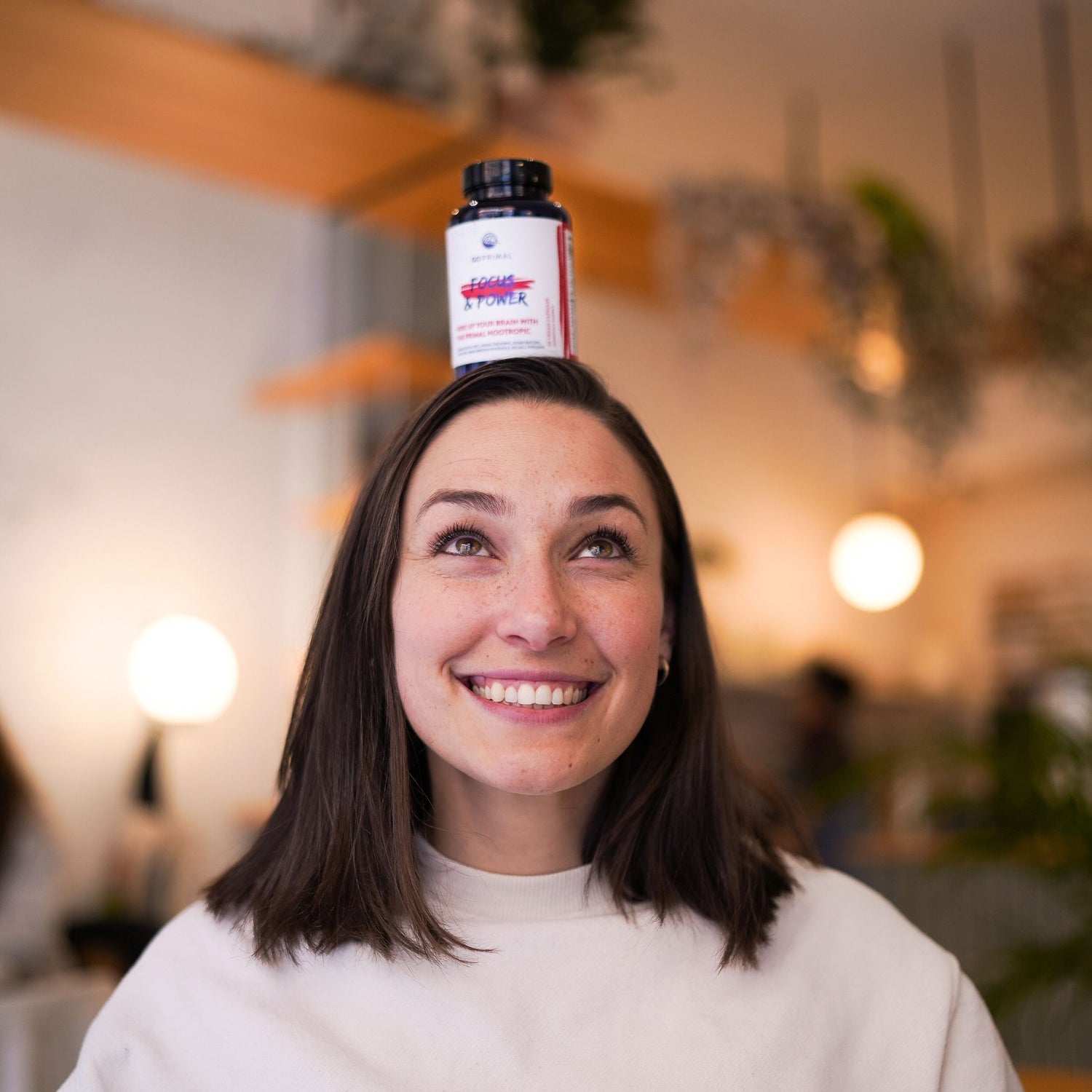 Improve mental cognition
That perfect mind estate where things flow and you can do more of what you like.
Increase power output up to 14%
A study conducted for the Michigan University where football players increased their lower body power up to 14% in 10 days.
Improve concentration and creativity
Don't let anything distract you, be more productive with our adaptogens mix, The Primal Nootropic.
Alpha-GPC for cognition and power output
Alpha-GPC intake increases the release of the neurotransmitter acetylcholine and may improve learning and memory. In athletes, Alpha-GPC supplementation prevents exercise-induced reductions in choline levels, therefore increases endurance performance and growth hormone secretion.
Rudy Van Buren, Formula1 simulator Mercedes and McLaren
Focus&Power really helps me to stay more focused for longer periods of time.
Jordi Deju, Fittest architect in Europe
After working all day it's difficult to go to the pit and stay focused so that the movements go well. Focus&Power allows me to be attentive and motivated all day long.
Virginia Finol, Spanish Powerlifting Champion
My concentration during every workout is perfect now, and I don't need to drink coffee or artificial caffeine to avoid nerves.
Ingredient list
Bacopa extract: This is an ancient nootropic herb that can reduce anxiety, improve cognition and even protect the brain against ageing. It is widely used in Asia and integrated as an ingredient in medicinal preparations in Australia, India, Malaysia, Pakistan and Bangladesh. How does it work? Increasing the growth and proliferation of dendrites (= branched nerve cell extension, which sends and receives impulses to the nerve cell body).
L-tyrosine: An amino acid that can improve memory, mood, cognitive abilities, increase focus and reduce stress. How does it work? Sufficient levels of L-tyrosine provide the raw material for the body to produce neurotransmitters. When we are in high-stress situations, those levels needed for neurotransmitters can quickly become depleted.
L-theanine: An amino acid found in tea leaves. It has been shown to improve the quality of sleep and manage mental and physical stress. It may help protect the brain from oxidative stress. How does it work? It increases the calming neurotransmitters dopamine, serotonin and GABA, essential for sleep, mood, alertness and energy.
Alpha-GPC: In recent studies, it has increased muscle power and performance in strength and endurance sports by 14%. Administering A-GPC to the brain for the production of the cognitive neurotransmitter acetylcholine can improve cognitive function. It has been widely shown to increase serotonin and dopamine levels (sleep, mood, energy, motivation): choline is essential for the brain to produce acetylcholine, the "neurotransmitter of learning". Each molecule of Alpha-GPC comprises approximately 40% choline, which is delivered directly to the brain.
Energy and Physical activation without caffeine
Rhodiola Siberian extract: An herb used as a traditional medicine in China, Russia and Scandinavia to combat fatigue and stress. It may be able to restore energy, improve mood and enhance cognition. It may prevent brain damage caused by stress toxins. It works: Modulating signalling pathways and molecular networks in the brain may interact with the HPA system to suppress the production and release of cortisol.
Vitamin B12: Has been shown to improve working memory, mood. Essential for generating new red blood cells, DNA synthesis, maintenance of neurological function. It can be found in meats, fish, eggs, dairy products. How it works: it is a precursor in the biosynthesis of all the significant neurotransmitters acetylcholine, dopamine, GABA, norepinephrine and serotonin.
With Piperine: A unique ingredient that improves absorption for every ingredient in this mix. Piperine is extracted directly from black pepper
Ingredients.
THE PRIMAL NOOTROPIC. A UNIQUE PRODUCT. ADAPTOGEN INGREDIENTS HELP YOU TO DEAL BETTER WITH STRESS. VEGAN. IMPROVE FOCUS, MAXIMIZE VITALITY AND PERFORMANCE AT WORK OR IN ANY ATHLETIC FIELD. WITH 300MG A-GPC: ENHANCE MUSCLE PERFORMANCE. PROMOTES FOCUS, CONCENTRATION AND BOOSTS BRAIN POWER. NO SUGAR. NO CAFFEINE. CLEAN LONG LASTING ENERGY. NO JITTERS OR CRASH, JUST PURE AND NATURAL BRAIN AND PHYSICAL ACTIVATION.
Frequently asked questions.
DIE YOUNG. AS LATE AS POSSIBLE.
We produce products that address the micronutrient deficiencies of our modern lives.
Our goal is to improve the longevity of all athletes, from amateurs and amateur athletes to professionals; to us, everyone who works hard is an athlete, regardless of whether they have just started training or participating in competitions.
Trust the process, don't take shortcuts, take time to recover and you will reach your goals.
Die young. As late as possible.