Easy to digest

Grass fed

Lean muscle
Hydrolyzed whey protein isolate (from milk). Eliane (100% amylopectin). Low fat cocoa powder. Chocolate/Vanilla/strawberry-White chocolate flavour. Enzyme Complex · Digezyme(R) (amylase, protease, lipase, cellulase and lactase). Sweetener: sucralose.
The generally accepted guidelines for athletes regarding the daily protein requirement amount to 1.4 – 2g / kg per day in order to support the additional requirement for training adaptations. Endurance athletes should orientate themselves at the lower end, while strength athletes can make themselves comfortable at the upper end. The final amount is individual and depends on the training status (elite vs. amateur) and the type of sport. Crossfitters should stay between 1.6 – 2g / kg per day – an upper end is recommended due to the further positive effects on satiety and the immune system. The most important amino acids that most effectively influence muscle protein synthesis are the essential amino acids and above all the amino acid leucine.
100% Hydro Whey Protein
The best protein money can buy
Best flavours, creamy and soft ❤️‍🔥  Cold Pressed 💪🏼  Easy to Digest 🍏
Throughout various processing stages including ultra-filtration all unwanted whey-components such as fat, carbs or lactose are removed to get a finished purified high protein with low carb and fat product, which is not only important if you want to build up lean muscle mass but also helps your body to digest it! Because it doesn't have to digest a lot of fat or carbs it is able to absorb more rapidly than a concentrate or isolate and makes our GoPrimal whey protein hydrolyzed one of the fastest-digesting and best form.
100% Hydrolyzed Protein Next Generation in Protein- sourced from grass fed cows from Ireland. Happy free range cows.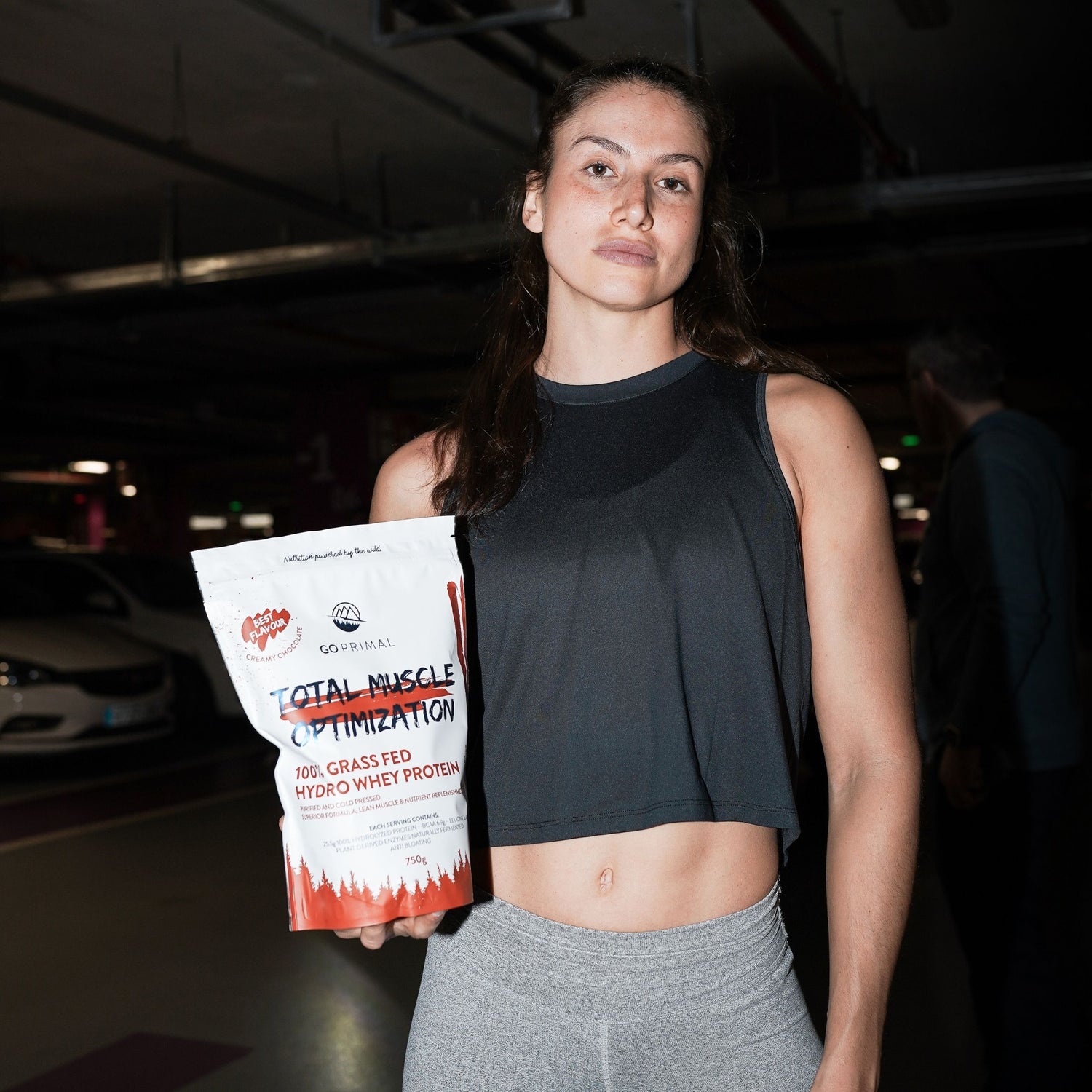 100% Grass Fed Hydrolyzed Protein
From happy Irish cows. They spend more than 300 days/year outdoors.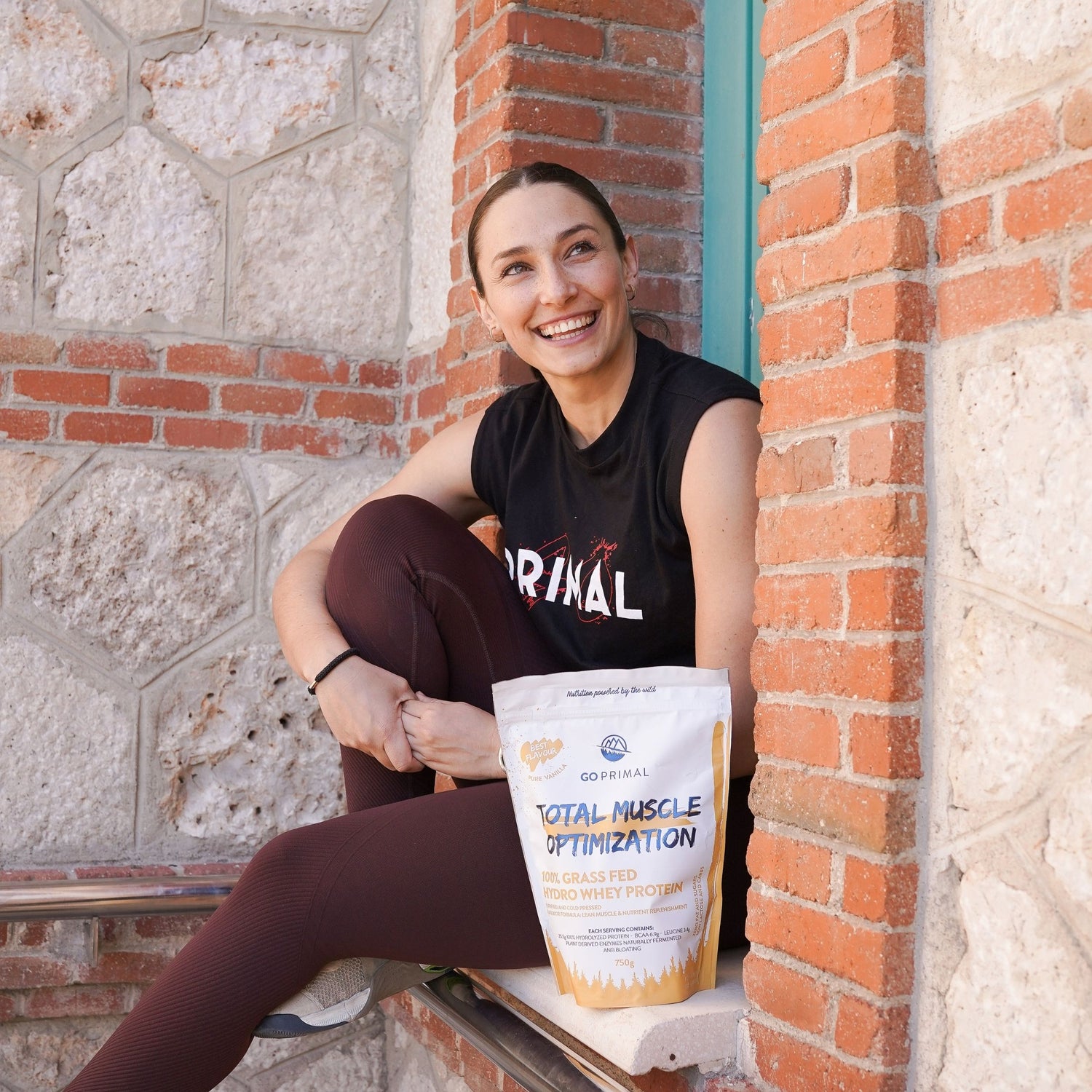 With digestive enzymes
Avoid any kind of indigestion or bloated stomach.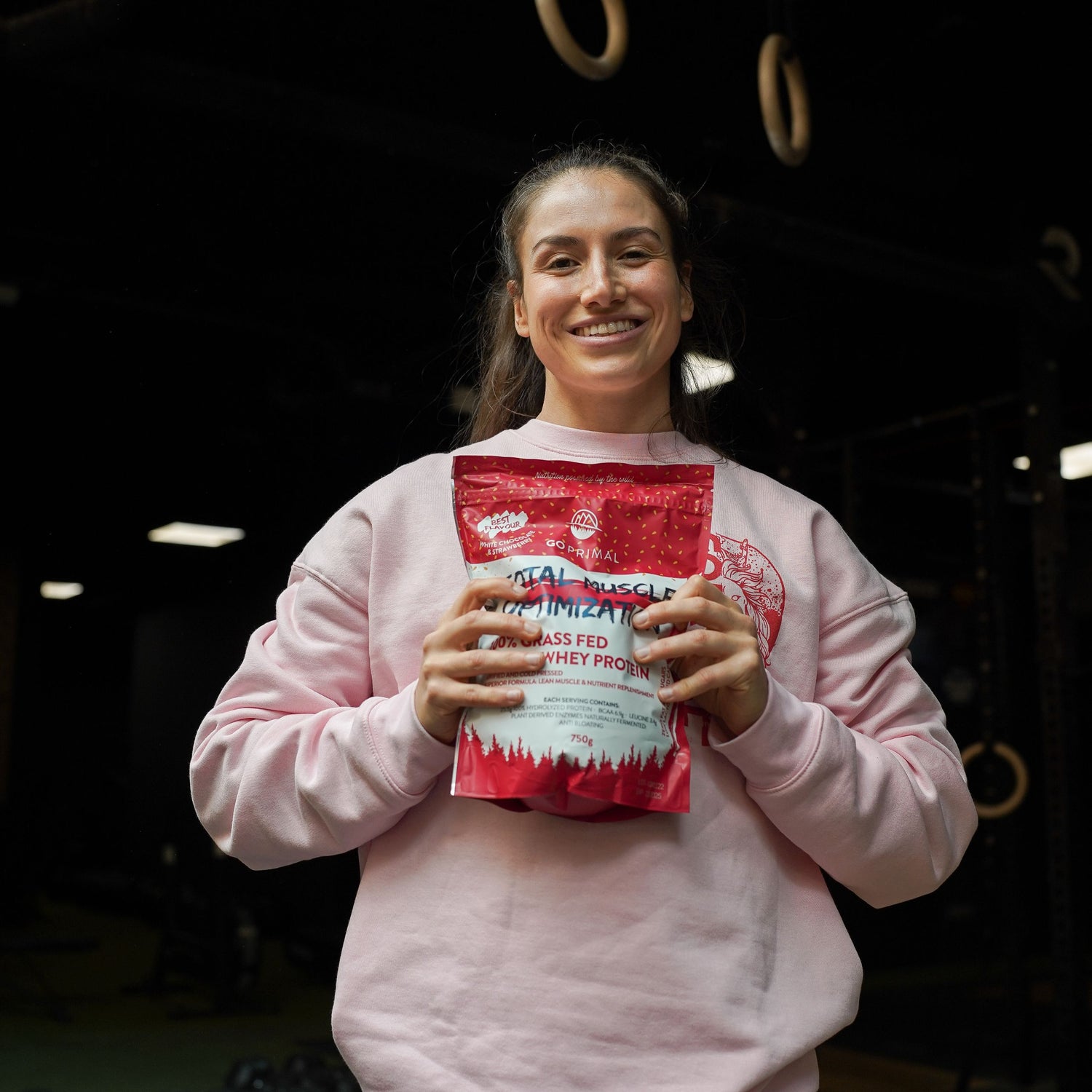 Creamy and Soft Flavours
As clean and effective as possible.
100% Grass Fed Hydrolyzed Protein
In a study over three years, it was quantified the fatty acid profile in milk from cows fed a 100% forage-based diet and compared it to profiles of milk from cows under conventional management. Grassmilk provided the highest level of omega-3s (0.05 grams per 100 grams of milk), compared to 0.02 g/100 g in conventional milk. Grassmilk also had 52% less omega-6 than regular milk.
With digestive enzymes
The frequently uncomfort that some people have when drinking protein shake is due to a low protein absorption, normally occurred when protein powder is low quality. We enhance our protein with digestive enzymes to improve absorption,
Creamy and Soft Flavours
We make sure that our flavours are always unique, soft and with minimum to non artificials. This is why our protein has a non artificial flavour that you will never get tired.
The easiest way to reach your macros every day
When training, we need an specific amount of protein per day. The total value can change depending on your goals, but being consistent in the amount of grams you need per day is KEY. This is why a clean and effective protein like ours can play a very important role in your everyday. Helping you to reach your protein levels intake.
How much protein do I really need – from an athlete's point of view total muscle optimization Proteins – functions and needs for the athlete The main aspect for athletes with regard to protein is to build muscle and support their training adaptations with a "correct" intake. We explain the important individual aspects below, but it should already be said: the total amount of protein is decisive at the end of the day.
For building muscle, muscle protein synthesis is the most important factor: the rate of build-up must be superior to that of protein breakdown. Insulin should be known as a hormone, which inhibits the breakdown processes, while protein stimulates the breakdown processes. In addition to the muscle structures, other protein-rich structures such as antibodies, enzymes or transport proteins are also continuously built up. Appropriate training and optimal calorie intake are also crucial for muscle protein synthesis.
Effective, creamy, soft and delicious
Our protein is designed to be mixed with plain water and have a great flavour, but if you really want to enjoy it, we recommend to mix it with just milk or plant based milk for a better experience. And if you have a blender, make sure you throw in some vegetables in your smoothie. You won't believe how tasty can be.
During training, our muscle structures are stressed and have to be rebuilt and "repaired" – this is where the post-workout window comes into play: after training there is a higher sensitivity to amino acids, which is why a protein shake after training is very useful – im In conjunction with a carbohydrate source, the regeneration window can be used even better (with regard to muscle glycogen resynthesis). A protein shake is not a must and you can prepare the same amount of protein with a normal meal.
An even division of three to five or even six meals a day makes sense, with a minimum of 25-40g protein per meal – the rate and stimulation of muscle protein synthesis was measured here. Depending on the type and load of training, the upper or lower end can be focused.
Ingredients.
EASIER ON YOUR STOMACH: AS HYDROLISED PROTEIN CAN BE MUCH MORE ABSORBED THAN OTHERS LIKE CONCENTRATE OR ISOLATE, YOUR STOMACH WILL FEEL MUCH BETTER. LOWER IN CARBS AND FATS: THE EXCLUSIVE COLD PRESS PROCESS ALLOWS US TO FILTER ONLY WHAT WE REALLY NEED: HIGHEST QUALITY PROTEIN POWDER. RESEARCH HAS SHOWN THAT HYDROLYZED PROTEIN POWDER ALSO HELPS RESTORING GLYCOGEN POST-WORKOUT. (YOUR BODY USES GLYCOGEN FOR ENERGY, WHICH IS ALSO STORED IN YOUR LIVER AND MUSCLES.) RESTORING GLYCOGEN AFTER A WORKOUT IS ESSENTIAL TO LIMIT POST-WORKOUT MUSCLE DAMAGE AND RECOVER IN A MUCH MORE EFFICIENT WAY.
Frequently asked questions.
DIE YOUNG. AS LATE AS POSSIBLE.
We produce products that address the micronutrient deficiencies of our modern lives.
Our goal is to improve the longevity of all athletes, from amateurs and amateur athletes to professionals; to us, everyone who works hard is an athlete, regardless of whether they have just started training or participating in competitions.
Trust the process, don't take shortcuts, take time to recover and you will reach your goals.
Die young. As late as possible.