All you really need

Antiaging Antiaging

Protect you immune system Protect you immune system
The important thing about a multivitamin is that it contains optimal amounts of each ingredient, rather than hundreds of vitamins and minerals in trace amounts that your body fails to benefit from. This is a common practice in the supplement industry, as this way it is possible to communicate a myriad of benefits per ingredient, even though the benefits are non-existent due to the minimal amount of each ingredient.
Vitamin A:
,
Vitamin B1:
,
Vitamin B2
,
Vitamin B3
,
Vitamin B5
,
Vitamin B6
,
Biotin
,
Folic Acid
,
Vitamin C
,
Vitamin D3
,
Vitamin E
,
Vitamin K2
,
Zinc bisglycinate
,
Iodine
,
Selenium
,
Manganese
,
Copper
,
Chromium
,
PQQ
,
Coenzym Q10
,
Resveratrol
,
NUTRITION IS THE FIRST STEP IN YOUR WELLNESS ROUTINE
The nutrient content in food has decreased dramatically over the past few decades and it has become hard to reach the needed amount of daily vitamins.
Additional – and in all honesty – sometimes everyone is having a busy day where we don´t eat enough or no high-quality food. This is where GoPrimal´s VITASSIST also steps in and helps us to hit the needs of our body.
Last but not least – if you´re working out a couple of time a week you will have a much higher vitamin requirement!
SLEEP | FOCUS & MOOD | ENERGY | VEGAN | ANTI AGING | IMMUNITY
BEST BIOAVAILABLE FORMS: FROM NATURE TO YOU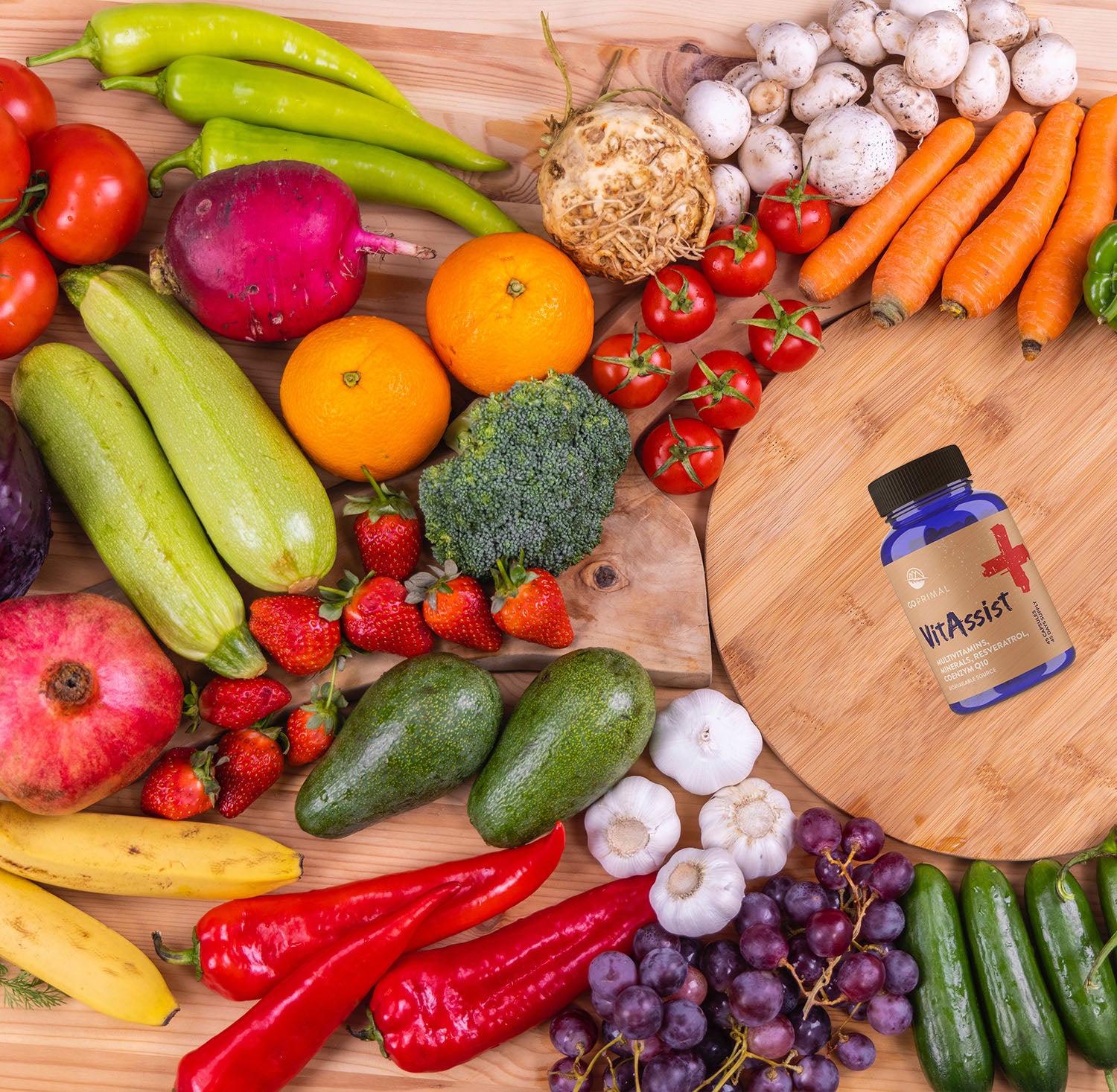 13 different Vitamins
Vitamin A and B complex, Biotin, Folic Acid, B12, Vitamin C and E, Vegan D3, K2 MK7
9 Minerals & trace elements
Zinc, Iodine, Selenium, Manganese, Copper, Chromium
Fill the gaps in your nutrition
Filled with PQQ, COQ10, RESVERATROL. 100% VEGAN.
Dr. Daniela Rieder. Senior Physician for Plastic Surgery and Head of Outpatient Clinic at VIMC
Modern farming is depleting the mineral and vitamin content of our fruit and vegetables. Goods are now traveling long distance, grown in greenhouses and collected before they are ripped, which is when the maximum level of nutrients is achieved.
Dr. Rudolf Hanslik. MSc in the clinical Management of Pain
As we age, our nutritional needs increase. Also, it gets harder for the body to absorb nutrients. Medications, fruit pesticide and other additives can further deplete our body of nutrients. Vitassist can offset these deficiencies.
Dr. Rhonda Patrick.
Older adults given a multivitamin with vitamins C, D, zinc, and other vitamins for 12 weeks had increased circulating levels of zinc and vitamin C, and illness symptoms that were less severe and shorter-lasting than those given a placebo
Andrea Wong, senior vice president of scientific and regulatory affairs at the Council for Responsible Nutrition
The primary role of a multivitamin is to fill nutritional gaps and make sure people get their daily allowance of under consumed nutrients like vitamins A, C, D, E and K, magnesium, dietary fiber, choline and potassium.
The powerful combination of vitamins and minerals
Vitamins are organic substances which our body needs for the proper function of its metabolism. Vitamins and minerals prevent disease but can also help us to feel healthy and energetic.
Filling the nutrient gap in our modern diet
Some certain symptoms and diseases seem to be related to our food intake. The nutrient content in food has decreased dramatically over the past few decades and it has become hard to reach the daily recommended amount of daily vitamins.
Vitamins and sports performance
Minerals and vitamins are important for a variety of activities in the body like turning food into energy which is needed to perform best.
To give you a few examples: vitamin A is needed for the breakdown of protein during muscle repair process, vitamin C works as a strong antioxidant and protects muscle cells from damaging free radicals and vitamin B help your cells to produce usable energy.
Coenzyme Q10 regulates inflammatory pathways in the body and may be useful to avoid muscle fatigue.
Healthy living | Recover Stronger | Protect your body
Why do we need Multivitamins
It´s likely known that vitamins keep us healthy – they are compounds that our body needs to work properly. Without a sufficient supply of vitamins, our body wouldn't be able to convert food into energy and to build and maintain strong bones, muscles, teeth or hair!
Vitamin A: Plays a role in the modulation of the immune system, vision and skin health.
Vitamin B1: Plays an important role in the metabolism of carbs, protein and fat.
Vitamin B2: Is important for body growth, aids in red blood cell production and helps in release of energy from proteins.
Vitamin B3: Is necessary in supporting the function of many enzymes.
Vitamin B5 : Supports a large number of enzymes in the body.
Vitamin B6: Acts as coenzyme for more than 100 enzymes in the metabolism of amino acids, glycogen, fats and other vitamins.
Biotin: It is an essential vitamin that has been grouped with the B-complex vitamins.
Folic Acid: Helps your body to produce and maintain new cells.
Vitamin C It is important for connective tissue repair.
Vitamin D3 Plays a key role in building strong muscles and bones.
Vitamin E: Antioxidant and anti-inflammatory effects.
Vitamin K2: Strengthens bones density.
Zinc bisglycinate: It is an essential mineral that has numerous roles in the body. It is lost through sweat, making supplementation important for athletes.
Iodine: Supports the thyroid function.
Selenium : It is an essential mineral with antioxidant capabilities.
Manganese : May improve bone health by supporting bone mineral density.
Copper: It is an essential mineral for antioxidative enzymes in the body.
Chromium : Plays an important role in blood sugar regulation and metabolism of carbs and fats.
PQQ: Acts as an antioxidant, protects cells from oxidative damage.
Coenzym Q10 CoQ10 improves aerobic power, anaerobic threshold, exercise performance and recovery after exercise.
Resveratrol: Extend lifespan in different organism but it´s not clear if it would have a similar effect in humans.
Ingredients.
VITAMIN A, B1, B2, B3, B5, B6, BIOTIN, FOLIC ACID, B12, C, D3, E, K2 (MK7) / ZINC BISGLYCINATE, IODINE, COPPER, SELENIUM, MANGANESE, CHROMIUM / PQQ, COQ10, RESVERATROL (96%). 100% VEGAN
Frequently asked questions.
DIE YOUNG. AS LATE AS POSSIBLE.
We produce products that address the micronutrient deficiencies of our modern lives.
Our goal is to improve the longevity of all athletes, from amateurs and amateur athletes to professionals; to us, everyone who works hard is an athlete, regardless of whether they have just started training or participating in competitions.
Trust the process, don't take shortcuts, take time to recover and you will reach your goals.
Die young. As late as possible.