Easy to digest

Lean muscle

Regenerate
Whey Protein Concentrate, Whey Protein Isolate, Milk Protein Isolate (Micellar Casein), Skimmed Milk Powder, Glycine, Diced Cocoa Biscuit [Wheat Flour, Sugar, Vegetable oil (High oleic sunflower oil), Cocoa powder, Glucose and Fructose syrup, Raising agents (Ammonium hydrogen carbonate and Sodium hydrogen carbonate), Salt, Emulsifier (Soya lecithin), Flavour], L-Glutamine, Flavours, Sweetener (Sucralose) and Sodium Chloride. y β- Galactosidasa [Lactasa (Tolerase® L)]
Take 30g (1 scoop) in 300-400 ml of cold water or milk. Mix until completely dispersed and take after your workout or as recommended by your physician.
The generally accepted guidelines for athletes regarding the daily protein requirement amount to 1.4 – 2g / kg per day in order to support the additional requirement for training adaptations. Endurance athletes should orientate themselves at the lower end, while strength athletes can make themselves comfortable at the upper end.
The final amount is individual and depends on the training status (elite vs. amateur) and the type of sport. People who train 3-4 times a week should stay between 1.6 – 2g / kg per day – an upper end is recommended due to the further positive effects on satiety and the immune system. The most important amino acids that most effectively influence muscle protein synthesis are the essential amino acids and above all the amino acid leucine.
Yeah, sometimes three is better than one 
😉

The perfect Three Whey of Casein, Isolate and Concentrate
This delicious blend of Casein, Isolate, and Concentrate is not only excellent after working out, but it also offers advantages for in-between meals and even at night before bed as hot or cold drink.
We like it fast and slow...
...and your metabolism does too! Get the full spectrum of fast and slow-digesting proteins, giving your body a steady stream of proteins to avoid blood sugar spikes and hangry moments. This combo fuels your muscles with all the right nutrients for peak growth and recovery, keeping you pumped and ready to conquer your fitness goals.
Incorporate it into your daily diet or enjoy a serving before bedtime, and let it work its magic while you rest and recover.
A multi-component blend combining fast and slow-digesting protein for building lean muscle and supporting recovery all day long.
Tolerase-L, the superhero digestive enzyme
Say goodbye to any digestion issues because this addition ensures your tummy stays happy and satisfied, no matter what.
Day and Night Protein Blend
With the combination of fast and slow digestion proteins, you get a steady supply of amino acids, which not only fuels your gains but also provides the nutrients your body craves all day long.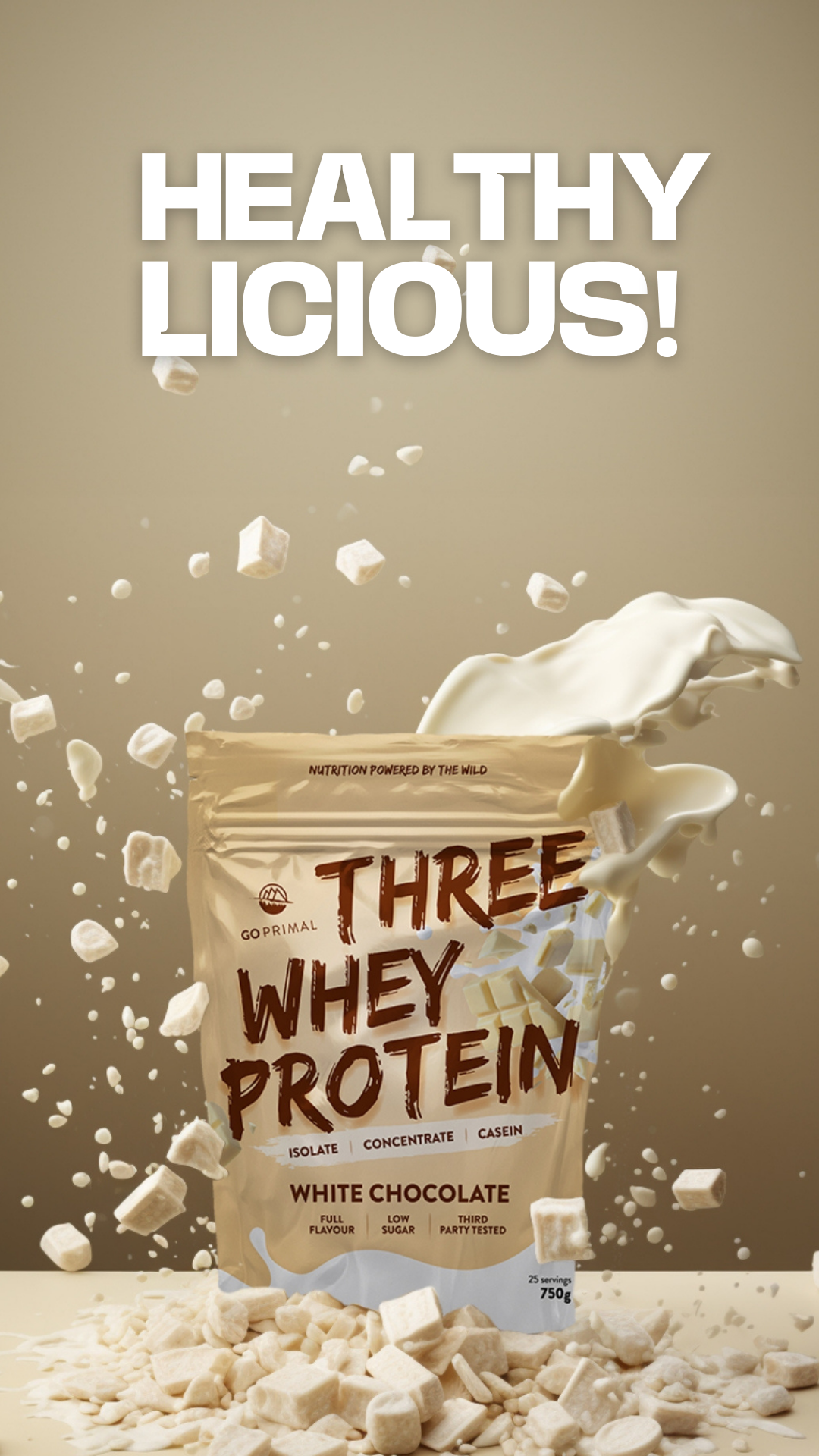 The flavors are just WOW
Our blend is a powerhouse of fuel, and the WOW flavours take it to a whole new level. Smooth, clean, and irresistible. You won't believe protein could taste this good!
Isolate Whey
A protein source that is broken down and absorbed quick by the body so your muscles can start recovery and protein synthesis.
Casein Micellar
It is on the opposite side of the spectrum and is a slow-digesting protein that can take upwards of six hours to be completely broken down and absorbed. Normally used at be time protein drink.
Whey Concentrate
This protein is very rich in nutrients and contains higher amounts of fats and carbs than Isolate. Additionally, it has a wonderfully creamy taste and will make you enjoy a protein shake every day.
Why is ThreeWhey important for your training progress?
Multi-compound whey protein is often considered better for training because it contains a blend of different types of protein that work together to provide a more complete amino acid profile. This can help to support muscle recovery and growth, which are important factors for anyone engaged in regular exercise or strength training.
Whey protein is a high-quality source of protein that is easily absorbed and utilized by the body, making it an ideal choice for athletes and active individuals.
By combining these different forms of whey protein in a multi-compound whey supplement, you can provide your body with a more diverse range of amino acids to support muscle growth, repair, and recovery. Additionally, the blend of fast- and slow-digesting proteins in multi-compound whey can help to provide a sustained release of amino acids over time, which can further enhance muscle growth and recovery.
Overall, multi compound whey protein can be a great addition to your training regimen, helping you to achieve your fitness goals more efficiently and effectively.
What does the research say?
When whey protein and casein protein were combined, muscle growth was examined in a study done by the Mayo Clinic. They discovered that the blended protein was able to increase the amount of high-quality muscle mass. They thought that the altered rates of digestion and absorption made it possible for the muscles to absorb and use the nutrients more effectively.
Another study, this one conducted by Baylor University, involved a group of males who underwent a 10-week training regimen. They were instructed to drink a whey protein and casein protein shake after their workouts. They discovered that the group that consumed the blended protein increased their lean muscle mass by an average of four pounds.
According to a study conducted by the University of Texas Medical Branch, using a blended protein like the one we've been talking about can also help you maintain an enhanced protein synthesis level for several hours, which has been shown to be more advantageous than using whey protein alone.
Ingredients.
WHEY PROTEIN CONCENTRATE, WHEY PROTEIN ISOLATE, MILK PROTEIN ISOLATE (MICELLAR CASEIN), SKIMMED MILK POWDER, GLYCINE, DICED COCOA BISCUIT [WHEAT FLOUR, SUGAR, VEGETABLE OIL (HIGH OLEIC SUNFLOWER OIL), COCOA POWDER, GLUCOSE AND FRUCTOSE SYRUP, RAISING AGENTS (AMMONIUM HYDROGEN CARBONATE AND SODIUM HYDROGEN CARBONATE), SALT, EMULSIFIER (SOYA LECITHIN), FLAVOUR], L-GLUTAMINE, FLAVOURS, SWEETENER (SUCRALOSE) AND SODIUM CHLORIDE. Y Β- GALACTOSIDASA [LACTASA (TOLERASE® L)]
Frequently asked questions.
DIE YOUNG. AS LATE AS POSSIBLE.
We produce products that address the micronutrient deficiencies of our modern lives.
Our goal is to improve the longevity of all athletes, from amateurs and amateur athletes to professionals; to us, everyone who works hard is an athlete, regardless of whether they have just started training or participating in competitions.
Trust the process, don't take shortcuts, take time to recover and you will reach your goals.
Die young. As late as possible.