FUNCTIONAL UNISEX T-SHIRT MADE WITH RESPECT FOR BOTH PEOPLE AND THE PLANET.
COTTON IS NATURALLY SOFT
Using high-quality organic cotton takes softness to the next level, it makes the T-shirts feel weightless, mainly because how well organic cotton T-shirts can "breathe." Traditional cotton uses chemicals and artificial fabrics to emulate the softness of true and organic cotton.
100% organic cotton, Certified by Fair Wear Foundation(FWF). Organic cotton grows and is produced without toxic substances, pesticides, fertilizers or chemicals. T Shirt color is produced without the use of any chemical dyes, and produced in ways that do not harm the environment, animals or people.
100% ORGANIC RING-SPUN COMBED COTTON | VEGAN | FAIR WEAR FOUNDATION 
Limited Edition - Forever Getting Stronger
T-shirt feels like sweet drops of heaven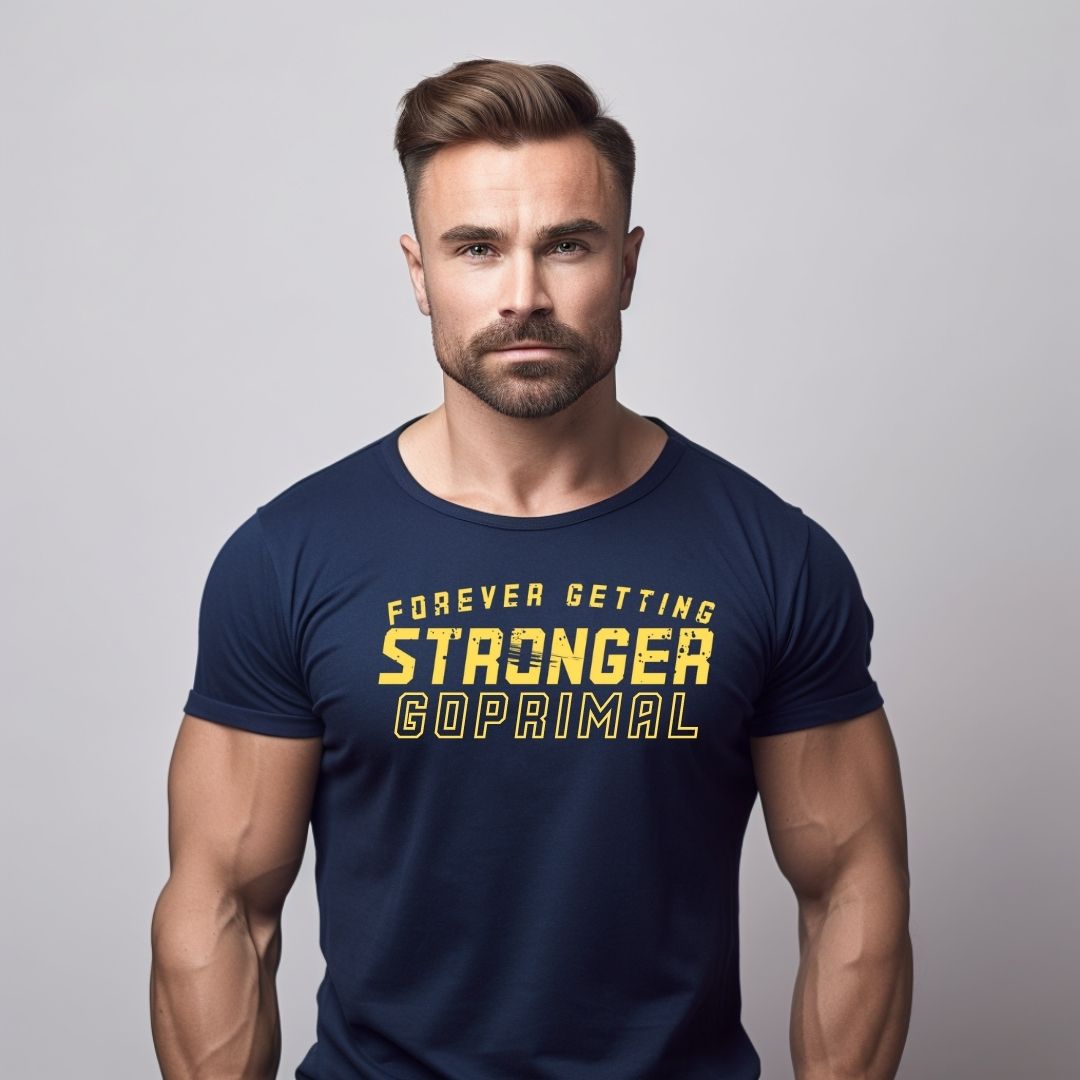 Organic ink for our print
Unisex · Vegan · Fair Trade
Forever Getting Stronger
WE CHAMPION PRACTICES THAT DON'T HARM THE EARTH.
Because we believe in a PRIMAL living that is driven by Nature and Powered by its WILD resources.
GoPrimal works on improving aging and Forever Getting Stronger, the wild instinct of overcoming challenges and achieving wild goals in life.
We decide what type of life we live, what world we want to leave behind and we have decided to Go Primal and be Powered by the Earth and its Wilderness.
True to our origins, we want to revolutionise every single aspect our lives and make every step into the right direction.
We didn't come here to be part, we came with power and strength to break down the walls and be as wild and primal as possible
WE ARE WORKING ON IMPROVING OUR CARBON FOOTPRINT
Ethical and Sustainable Athletic Clothing for you, the Stylish and Sweaty.
Organic cotton is more breathable than synthetic fibers which are present in pretty much all activewear. Because it is more breathable, we can wear it in hot or cold weather and still be comfortable, since it doesn't trap heat and allows moisture to evaporate. It retains odor less than synthetics, so we wash it less often – saving water and energy.
Strong, yet soft, grown safely and processed without toxic dyes and finishing materials isn't treated with chemicals.
When we wear organic cotton, we are wearing less polyester, nylon or microfleece. These materials are made with petrochemicals, and are unhealthy for the skin. Synthetic microfibers can impact our water and health when washed at home.
WE ONLY WORK WITH FACTORIES WITH EFFLUENT TREATMENT PLANTS: we treat water as the invaluable resource that it is. By choosing only organic cotton, we ensure that a minimal amount of water is used in crop production and also that it's not polluted by harmful chemicals, meaning soil and fauna are protected from contamination.
Our manufacturing partners plants are respectful with energy use and CO2 emissions.
SIZES S · M · L · XL
Half Chest 49 · 52 · 55 · 58
Body Length 69 · 72 · 74 · 76
Sleeve Length 20,5 · 21,5 · 22,5 · 22,5
Washing at 30º
Iron 110º
No Tumble Dry
Iconic Unisex T-shirt · 100% ORGANIC RING-SPUN
COMBED COTTON
Model is 188 cm and 92 kgs and wearing a XL
Female Model is 160 cm and 52 kgs and wearing a S
Frequently asked questions.
DIE YOUNG. AS LATE AS POSSIBLE.
We produce products that address the micronutrient deficiencies of our modern lives.
Our goal is to improve the longevity of all athletes, from amateurs and amateur athletes to professionals; to us, everyone who works hard is an athlete, regardless of whether they have just started training or participating in competitions.
Trust the process, don't take shortcuts, take time to recover and you will reach your goals.
Die young. As late as possible.